Although surrounded by China in the north where the virus originated, and India in the south which has nearly 400,000 confirmed cases.
In Bhutan, no one has died from Covid-19, and nor has any community transmission been detected.
Of the 76 confirmed cases, the first being an American tourist, 38 have recovered fully. All cases were imported – they got infected in another country.
On June 19, 2020, Prime Minister Lotay Tshering, a practicing surgeon, told local media that the "transition to a new normal" would begin on July 1. Except for nightclubs and the country's borders, almost all activities – from schools and colleges to offices to public transport to religious sites – are reopening.
Under the guidance and leadership of His Majesty the King, our government has looked at the threat from every angle possible and shielded us, so far, impeccably from it.
With a population of over 750,000 people – with limited doctors and medical staff seemed indeed vulnerable. The country's first case was reported during the first week of March in the form of an elderly American tourist. The care he received, he later penned in an American journal, was 'impeccably heartwarming.' Apart from round-the-clock attention from medical staff, he even had a personal visit from His Majesty the King. His partner, also an American, tested positive a few weeks later.
That notwithstanding, in February itself, a National Preparedness and Response Plan had already been put in place by the government, and an emergency committee was doling out regular updates and briefings to keep citizens informed. And this proved very timely. Once the first positive case came to light, tracing and testing those who had come in contact with the tourist was set into motion. Soon, 21 days quarantines were implemented for anyone entering the country in over 100 facilities that were set up around the nation. Schools were closed, the borders sealed, and social distancing norms were encouraged.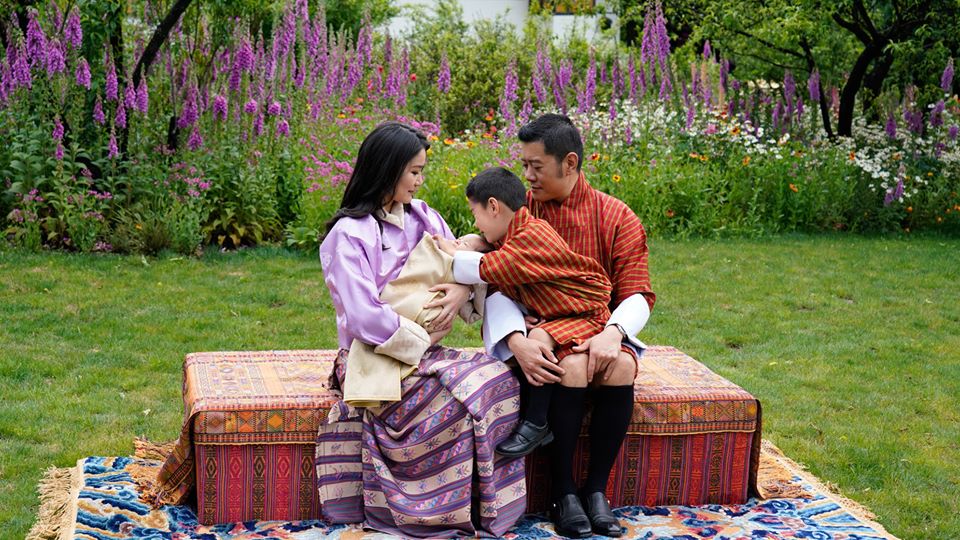 In His address to the nation, His Majesty had said: "At such a time, we must exhibit the strength that comes out of our smallness, remain united and support one another. During such exceptional circumstances, the government will take the responsibility of alleviating any suffering to the people due to the virus."
That, perhaps, was the cue.
Then on, everything began falling into place, literally. The nation, indeed, came together as one family in solidarity.
Private hoteliers offered their properties without charge to be used as quarantine facilities, businesses, civil servants and individuals offered cash contributions and continue to do so, all MPs let go of a month's salary, farmers donated their crops (and continue to do so) to distribute to those in need, and locals in collaboration with the government helped set up quarantine zones in villages.
So much so that even the opposition provided its support when in other counties the virus is being politicized for political gain.
On the government's part, inspired by His Majesty The King, monetary packages to those sections hit the hardest, and a loan waiver to every citizen – till such a time the country's economy is back on track – has been announced.
That's not all.
With the whole entire world on lockdown, Bhutanese stranded abroad were increasingly finding themselves in dire situations, and wanted to return home. The government, under the leadership of His Majesty, sent out, and is continuing to send, chartered planes to bring back students and working Bhutanese home. All of them are being quarantined upon their return.
It gets better still.
His Majesty mobilized the Royal Bhutan Army and volunteers known as desuups, to build makeshift houses in under a month to accommodate the thousands of Bhutanese living on the other side of the border in the Indian town of Jaigaon. Had it not been for His Majesty the king's farsightedness and timely intervention like traversing the length and breadth of the country extensively to ensure all safety measures are in place, and putting out all the required checks, Bhutan most likely would be experiencing a different scenario.
Yes, Bhutan is a small speck on the world map, an underdeveloped country, but if the world inspects closely, it will discover a looming example of what true leadership looks like. There is nothing a community cannot achieve when it comes together in solidarity propelled by its age-old spiritual values.
---
Here is local journalist Namgay Zam's account of how public trust in the government and clergy came in handy to fight the pandemic
Public Trust
Bhutan is a democratic constitutional monarchy, where the 40-year-old king, Jigme Khesar Namgyel Wangchuck, is revered by almost all Bhutanese citizens as well as political leaders. King Khesar has been seen as being at the helm and the forefront of the fight against the new coronavirus. He has said the country must do all it can to ensure there are zero deaths from Covid-19.
The Chief Abbot of the Central Monastic Body of Bhutan, known as Je Khenpo, addressed the people of the country on national television, stressing on the need to listen to medical professionals while also believing in the power of prayer. Je Khenpo rarely appears on television, and when he did, the Bhutanese people took it seriously. Many offices suspended all work so that its employees could listen to the address.
It helps that at least three of officials who have been part of a team that is leading Bhutan's efforts to combat the spread of the coronavirus on the ground understand medicine. Two of them – Prime Minister Tshering and Foreign Minister Tandi Dorji – are medical doctors. And the other, Health Minister Dechen Wangmo, is Master's in Public Health from Yale University.
Despite the country's need to be extra cautious given it lies between two geological giants in competition and conflict – India and China – the officials have remained calm but proactive, while also maintaining a high degree of transparency, in checking the spread of Covid-19.
Government Response
The officials oversaw the formulation of a National Preparedness and Response Plan well before the first Covid-19 case was detected, and soon after that a detailed contact tracing was done within 24 hours.
The mandatory 21-day quarantine for all Bhutanese returning from abroad played a vital role in ensuring there is zero community transmission. Semi-lockdown measures were imposed early on, with schools and entertainment spots being shut down first, and people being urged to maintain physical distancing.
Bhutan closed her doors to tourists immediately after the index case.
At least 5,000 Bhutanese living across the border in the town of Jaigaon in the east Indian state of West Bengal were brought into Bhutan before it fully closed its borders. The office of King Khesar has been taking care of them.
The health ministry has posted daily updates on its website and social media accounts. It has held weekly press conferences, which included a sign translator, and created a WhatsApp group for journalists where officials respond immediately to any query or concern raised.
The government started an advocacy campaign using all media platforms at its disposal to educate the Bhutanese masses on Covid-19 safety measures. Bhutan Telecom, the state-owned telecom service provider, assigned a caller ringback tune, a song encouraging people to stay home, to all its subscribers.
Authorities have built makeshift 24-hour flu clinics in all the districts. Anyone with flu-like symptoms has been advised to visit the clinics and not a hospital.
Healthcare in Bhutan is free. All of the tests and treatment for Covid-19 have also been done free of cost. With more than 23,100 tests, Bhutan has among the highest test rates per million in the region.
A national mental-health task force has also been instituted with a 24/7 helpline. Psychological first-aid training has been provided to many frontline workers as well as interested citizens.
The government set up a registry for the vulnerable population – the elderly, people with chronic conditions, pregnant women and children – and King Khesar provided free care-packages, including multivitamins, to more than 51,000 people above the age of 60.
Public Response
Thousands of Bhutanese have signed up for the De-suung program, which trains Bhutanese to be life-long volunteers, including for disaster-related operations. The program's website crashed for the first time since its existence due to an overwhelming number of Bhutanese signing up.
Hoteliers came forward and offered their businesses to be used as quarantine centres, free of cost. Bhutan has quarantined more than 7,000 Bhutanese thus far.
Many Bhutanese who can afford the cost of quarantine have repaid the government. Many others have contributed in cash and kind to the government. All members of parliament voluntarily gave up a month's pay. Farmers from different parts of the country donated rice, vegetables and fruits.
Landlords have waived off or reduced rent for their tenants from April to June. A Facebook page, called Generous Landlords of Bhutan during Covid-19 crises, was created to allow tenants to thank their landlords.
The Bhutanese diaspora quickly rallied together to mobilise funds for fellow Bhutanese who tested positive. The United Bhutanese Association in New York rented two apartments in the city as quarantine centres. A Bhutanese nurse monitored the patients. All 10 Bhutanese who tested positive in New York have recovered at the flats.
A relief fund instituted by the king has directly deposited money to the bank account of more than 13,000 Bhutanese who suffered financially due to Covid-19.
Covid-19 Economic Aftermath
More than 90 percent of Bhutan's supplies are transported by land, mostly through India. After Bhutan closed its international borders on March 23, and India declared a nationwide Covid-19 lockdown a day later, New Delhi and Thimphu worked together to ensure that the transportation of essential supplies didn't stop.
The Ministry of Agriculture has said it is acquiring about 64,000 acres of private land to provide commercial farming opportunities to interested individuals to deal with the food security. The government has earmarked 471 million rupees for an "Agriculture Stimulus Plan."
The tourism and hospitality sector – the country's biggest revenue generator besides hydropower – has been the hardest hit. At least 50,000 Bhutanese are estimated to be engaged with tourism and hospitality. So the Tourism Council of Bhutan, through its "Tourism Stimulus Package," is providing employment opportunities to those employed in the sector in waste management, infrastructure, product development and surveys, among other fields. They are also being encouraged to farm on government land.
Financial institutions deferred loan repayments and waived off interests, initially for three months beginning April, and then they extended it until March 31 2021, to ease economic pressure on businesses and individuals. The total interest waived for April alone amounted to about 1,200 million rupees. The cost for the waiver for the first quarter was borne by the financial institutions and the government 50:50. The cost for deferring the interests for another year will be met with the support of King Khesar's office.
A positive story, especially about a government, might sound refreshing to some, and romantic to others in today's world. While Bhutan has had many soft-spots, the country has from time to time surprised the outside world with its good gestures.
One such gesture was witnessed by the index case, that of a 76-year-old American tourist with comorbidity. Health Minister Wangmo personally called the patient's family every morning to update them. And King Khesar visited the patient.
The tourist and his wife, who, too, had tested positive, have recovered and returned to their home in the United States. And in Bhutan, we, the Bhutanese, are getting ready to restart our lives.